For more than 35 years, the Dangaard group is an efficient and flexible link between international brands and key customers. Moreover we have been AAA-rated since 2008, proving our good results and strong financial basis.
We have internationalized and are locally represented with offices and warehouses in five countries; being proudly one of Scandinavia's very largest independent wholesalers, importers and distributors.
Our business currently rests on the three strategic legs:
Trading: We are one of Europe's most significant traders, meaning back-to-back trade with major consignments.

Wholesale: We make bulk purchases and use our own warehouse and logistics setup to cover widely with exciting goods in all categories for major and minor customers.

Distribution: We are the official distributor for a number of strong brands which we bring to the next level via our distribution setup and local presence.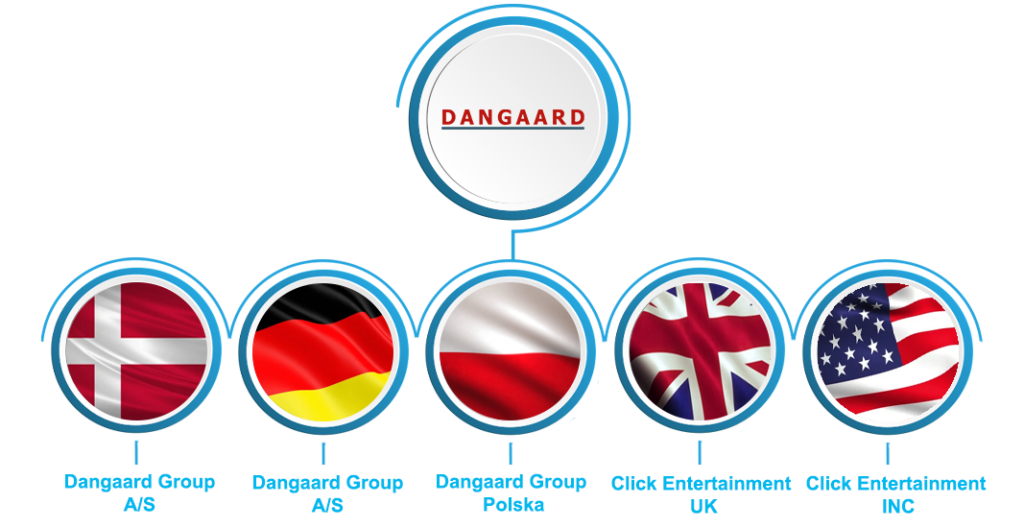 Group outline, Dangaard Group
Dangaard Group headquarter is based in Padborg, southern part of Jutland in Denmark, at the border with Germany. The headquarters is in constant relation with suppliers and customers throughout the world. There is where the Dangaard's key functions as a purchasing and sales organisation, the coordinator team, finance department and group management are.
In Flensburg, just south of the border, Dangaard runs its own warehouse, logistics and after sales setup handling more than 12m products annually. International locations are managed by a local manager reporting to the headquarters in Padborg, thus having their own purchasing and sales functions, accountancy and warehouse/logistics setup available.
Ownership – Fleggaard
he Fleggaard group, a traditional danish conglomerate, has always been the owner of the Dangaard Group.
Through the years, Fleggaard has had a strategic focus on spreading group activities; Reaching across various industries, serving different segments and markets, being now one of Denmark's largest family-owned groups.
The activities and business areas of the group cover a wide field, With an annual turnover of approx. 900m Euros and about 1.700 employees distributed among 14 companies. However, those areas are concentrated in three core ones: retail, wholesale and car leasing.
In addition, Fleggaard has a number of other activities within a hotel and restaurant industry as well as e-commerce.
| | |
| --- | --- |
| Group Turnover | 886m € |
| Gross Profit | 141m € |
| Profit on ordinary activities before taxation | 51m € |
| Profit for the financial year | 37m € |
| Net Assets | 472m € |
| Equity | 211m € |
| Ownership – Aktielskabet Fladkær | 100% |
| | |
Individually, each company holds a rich portfolio of opportunities, products and services. Combined, they form a whole, where synergy and innovation provides the group's employees, customers and collaborators many benefits.
Our efficiency in constantly developing business areas is a key element of the group's strategy. This applies to the development of existing companies, through organic growth or targeted acquisitions, and to new projects or companies that can reach the next level with our competencies.